Please buy my new book The Femme's Guide to the Universe 2nd Edition on Kindle (which has an APP for ANY device) or on AUDIO–I am thrilled to be on audible.com.  I have updated this classic for today's femmes, wannabe femmes, Goddesses who need validation (or cleaning tips), Divas who need sex help, and bright young women who want to help being even more fabulous than you already are! It's been a long time coming since the first edition. I had a blast updating it and I think it will be oh so helpful to you. I
Worried you don't have the right device?  HERE's all you need (a phone or computer)
For those of you who have a BN Nook–my book is here.
My MAIN BLOG is: howgreatsexmademeagoodmom.com
To keep up with me please go to: https://www.facebook.com/SharRednour
My Twitter name is SharRednour. Please follow me, seriously, to know what fun or femme-ness I am up to!
Email me Shar at SharRednour.com.
My radio show Love Life & Sex is on SwirlRadio.com and TradioV.com.
Phew—
As An Author and Editor
I am so happy to have birthed The Femme's Guide to the Universe on Alyson Press in 2001 and the updated version just came out! Follow me on FB or Twitter to know the latest! I kept notes for the FG my whole life and researched all of the advice whole-heartedly. I am nothing if not thorough.
An essay I wrote for On Our Backs magazine was reprinted in the academic journal "The Last Sex: Feminism and Its Outlaw Bodies." It was about being a traditional virgin yet a sexual lesbian—Oh you can't imagine the stir that caused. So I decided to do a whole anthology about virginity.  I conceived and edited Virgin Territory 1 and 2 (Richad Kasak book). I collected women's real life stories of first sexual experiences in order to re-claim what "virgin" means. Nowadays there are countless "real life" erotica collections as a fad–most stories are barely if at all based on real experiences–but when Virgin Territory came out it was the only one. Booksellers did not even have a section for creative non-fiction. The stories in it are epic and true. Some are titillating and some aren't but they are all a part of feminist erotica and asserting our own truths of our own lives.
I also edited and created starphkr the zine which afterwords became a book spelled slightly different: STarf*cker. (Alyson Press). The zine was nominated for an ABA award coming after Bust which has thousands of readers—and had even just been on MTV— so I was proud of that.
I have written for playboy.com, been an editor at On Our Backs magazine, The Bay Times, Girlfriends, Curve, and others I can't even remember. I've written for some favorite old counter-culture rags, now obsolete, like The Spectator. I've interviewed Dr. Ruth Westheimer and have appeared on TV shows with Larry Flint and MS. Magazine Editor Marcia Gillespie.
I am very proud to be a Sister Spit alumni—from the original motley crew!
Currently, I am working on 2 humorous books on parenting.
As a Mommy Blogger
I am a creative, strong, and funny mother to three in a transracial, 2-mom family created through domestic adoption via the public system. I have always been a kid-person meaning I love kids but also I am a vibrant playful person who remembers what it's like to be a child.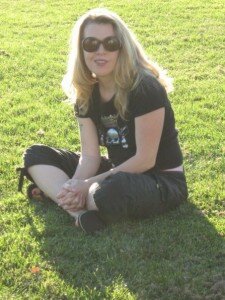 I am married to Jackie Strano. We've been together for 19 years.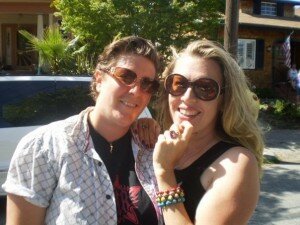 Wow do I get countless inquiries for our "secret sauce." Luckily I'm not too stingy and like to share any ideas that may or may not work for folks (but hey, trying is always fun!)
As A Filmmaker

I am the director and co-producer of Healing Sex featuring healer, activist, author, practitioner Staci Haines which helps heal intimacy with ourselves and others after surviving abuse or trauma. This revolutionary project helps heal the world from personal and systemic violence.  My company's other endeavors like Hard Love & How to Fuck In High Heels, Sugar High Glitter City or the Bend Over Boyfriend series were created with love to the human race, in particular to lesbians and queers who wanted to see more imagery that looks and fucks like we do! I am serious about education and people feeling good, healed and free to have "checked in" sex. Embodied sex. I love love. Recently I have worked for Good Releasing as one of the directors for GUSH a very comprehensive Pleasure Ed movie teaching all about the G-spot, pelvic floor muscles and female ejaculation.
As A Human
I try to walk the Earth as consciously as I can.
I help charities and benefits that empower or improve the lives of women and children and their communities. As a part of my human rights and dignity work, I am extremely concerned about classism. I come from a blue collar working class family.
I describe myself as "almost vegan." Or harm-reductionist vegetarian. As a mom surrounded by cheese pizza at school fairs, I am not perfect. But I do my best to try to reduce the cruelty and pain and environmental detriment with my personal habits and educate my family so they can make informed and empowered choices.
I am a fan of Captain Paul Watson and contribute to Sea Shepard as well.